Ventilation in homes is under the spotlight these days, and understandably so. With increasing demand for high performing buildings and a greater need for efficient air flow than ever before, it's become a hot topic.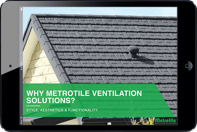 Find out why Metrotile's ventilation systems are superior to others in the market, and why you should use then in your next roofing project.
Our guide covers:
The importance of proper ventilation in NZ homes
The difference between roof space ventilation and in-house ventilation
The benefits of Metrotile ventilation systems over other solutions
Our three types of ventilation solutions
And more.
Get your free copy by filling out the form.
By submitting this form, you agree with our Privacy Policy.