Want to work with the roofing material of the future?
Make the switch to Tilcor stone- coated steel panels today. We've written this guide specifically to help you better understand why Tilcor
stone- coated steel panels are the ideal choice for roofing contractors now and into the future.
Check out our eBook to discover: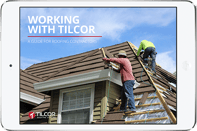 All about Tilcor's stone- coated steel panel product
How Tilcor's revolutionary Roofing System makes installation easy
The extensive Tilcor product range
Key information to help you make the switch to Tilcor products
And more
To download your free copy, simply fill out your details.
By downloading this content, you agree to our Privacy Policy.